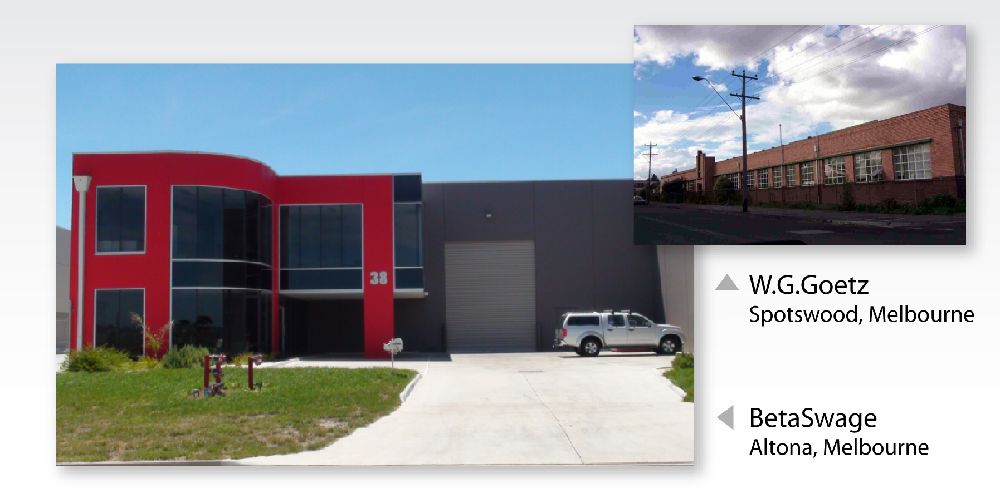 BetaSwage is Australia's leading swage press manufacturer, building market-leading machinery for hydraulic hose fittings for the global oil and gas industry. The factory is located at 38 Drake Boulevard, Altona, Melbourne, Australia – a convenient 30-minute drive from Melbourne's International Airport at Tullamarine. Our clients are some of the leading suppliers of hydraulic hose fittings around the world, including:
Alfagomma
Southcott
Gates
Pirtek
WHERE IT ALL BEGAN

BetaSwage was founded in 1999 by Fred Van Essen, Graham Thomas and Paul Farnham – former employees of W.G. Goetz. For 125 years, W.G. Goetz produced a range of mechanical flywheel presses to produce aluminium cans for the food industry. In addition to these specialisations there were divisions covering foundry, heat treatment, tool making and repetition engineering. In 1995, with Fred Van Essen's knowledge of hydraulics and the machine manufacturing capabilities of Goetz, the company began production of world-leading swage presses for the hydraulic hose industry. The GS150 and GS250 were the first two models of swage presses to be produced.
WHAT BETASWAGE HAS BECOME TODAY

Today, BetaSwage produces an extensive range of hose assembly machinery, including more than 80 swage presses to compress ferrules/collars onto hoses and couplings, ranging from 2mm to 14" ID. We also provide expanded capabilities into other manufacturing sectors, including cold forming assembly solutions to replace methods such as welding and fastening.
BetaSwage has also developed a range of innovative and patent-pending designs, with systems that are unique to BetaSwage to deliver the highest accuracy and lowest maintenance of industry standard machinery.
OUR QUALITY GUARANTEE

At BetaSwage, we pride ourselves on offering clients the best and latest technology for all our products, with a focus on the highest possible quality and competitive pricing. Our goal is to provide our clients with swage press machinery that delivers the best power to weight to cost ratio, through equipment that is designed with the concept of "balance" at the forefront. We offer a 5 year warranty on all products – unbeatable by the industry standard 12 month warranty. Our technology enables us to source our components from reputable suppliers who also focus on quality; including:
Siemens (Germany) - electrical switchgear
Casappa (Italy) - hydraulic gear pumps
Atos (Italy) - hydraulic directional control valves and vane pumps
AEG (Italy) - electric motors
Novotechnic (Germany) - linear transducers
Unbrako (Germany) - bolts and more
Our customers can have complete confidence in any BetaSwage product they buy. Every BetaSwage product is thoroughly tested and calibrated prior to delivery and then carefully packaged for shipment around the world.